Autor: Radmila Milivojević, dipl. ing.
Mentor: prof. dr Biserka Vujičić
.

.
Kada se sirovi beli luk doda prehrambenim proizvodima, on bez sumnje daje prijatan ukus i obezbeđuje poželjne osobine očuvanja površinske strukture i zadržavanja vode. Najveći deo sirovog belog luka čini voda. Sušenje ili ekstrakcija arome smanjuju ukupnu količinu što na kraju dovodi i do snižavanja troškova transporta i skladištenja. Obrada, međutim, može dovesti do neželjenih promena u izgledu. Pri preradi, takođe, dolazi i do promene prirodno izbalansirane arome i ukusa.
Sve je veća potražnja tržišta za proizvodima od belog luka. Flekice od belog luka, prah od belog luka, ulje belog luka i sok od belog luka su neke od obrađenih formi belog luka koje se koriste u prehrambenoj industriji. Takođe se prave i kapsule i tablete belog luka i ovi proizvodi imaju tržište zbog svojih značajnih medicinskih vrednosti.
.
Sušenje belog luka
Šematski prikaz procesa sušenja belog luka je dat na slici 3. Glavica belog luka se razdvaja na pojedinačne čenove prolaskom kroz valjke prevučene gumom koji vrše dubinski pritisak kako bi razdvojili glavicu bez oštećenja čenova. Čenovi dolaze na inspekciju, a potom im se labava tanka opna uklanja usisavanjem. Čenovi se zatim peru u mašini za ispiranje. U ovoj fazi se ispiranjem odvajaju korenski ostaci. Zatim se obavlja sečenje na posebno napravljenoj mašini za sečenje velike brzine. Iseckani čenovi belog luka se šire po trakama za sušenje koje su u određenom redosledu grupisane u kontejnere za transfer. Za sušenje se koriste tunelske sušnice. Jedna takva je prikazana na slici 2. Kontejneri se postavljaju u ove tunele i preko traka za sušenje se pušta vreo vazduh. Iseckani čenovi belog luka se isušuju na oko 10 posto prvobitne vlažnosti u operaciji koja traje od 10-15 časova na temperaturi od 60-65ºC. Međutim, poželjno je da se prilikom sušenja temperatura održava ispod 57ºC (Peter, 2001).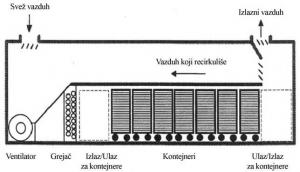 Slika 2. Tunelska sušnica
Deo preostale vlage se obično uklanja u završnoj operaciji u kojoj se čenovi belog luka odlažu u velike kontejnere, kroz koje se pušta topao vazduh temperature 40ºC (Peter, 2001). Prilikom ovih operacija sušenja temperatura mora biti kontrolisana kako bi se izbeglo da čenovi potamne. Pošto su kriške osušene, podležu inspekciji kako bi se uklonili manji komadi ili veći a koji su delimično osušeni. Manji komadi mogu činiti jednu trećinu konačnog sušenog proizvoda i oni se obično melju u prah. Veći komadi mogu biti prepolovljeni i dosušeni. Tako dobijene kriške se pripremaju u formi flekica. Mlevenje i pakovanje praha belog luka se obavlja u uslovima male vlažnosti vazduha kako bi se izbeglo stvaranje gromuljica. Prahu se pre pakovanja dodaju antihigroskopna sredstva za sprečavanje zgrudnjavanja: kalcijumova so masnih kiselina (E 470a) i magnezijumova so masnih kiselina (E 470b). Beli luk se za potrebe tržišta suši do 6,5 % vlažnosti (Peter, 2001).
Sušeni beli luk je dostupan u šest različitih formi: u prahu, samleven, neobrađen, granuliran, iseckan i u kockicama. Utvrđeno je da se od oko 5 kg svežih glavica luka skupljenih sa polja dobija 1 kg osušenog proizvoda. Takođe je na osnovu hemijskih, mikrobioloških i senzornih ocena zabeleženo da je maksimalna temperatura za proces sušenja belog luka 60ºC (Peter, 2001). Skladištenje praha belog luka se najbolje postiže u kontejnerima.
Prah belog luka, bez mirisa, kao dodatak za jačanje zdravlja može biti proizveden deaktivacijom enzima alinaze tretiranjem belog luka fumarnom kiselinom. Sušeni beli luk je podložan promeni boje. Potamnjenje je vezano za neenzimatske Maillard-ove reakcije i može se sprečiti snižavanjem temperature.
Slika 3. Šema sušenja belog luka (Peter, 2001)
Postoje i negativni efekti obrade na kvalitet i jačinu arome belog luka. Sušenje se povezuje sa gubitkom više od 90% jačine arome. Ovo predstavlja potencijalni problem okruženja, ali i značajan ekonomski gubitak. Ispitano je poreklo ovih gubitaka i zaključeno je da se oni javljaju neposredno pre dostizanja krajnjeg stepena vlage.
.
Kvalitet sušenog belog luka
Kvalitet svežih plodova koji se koristi u prerađivačkoj industriji određuje u velikoj meri i kvalitet završnog proizvoda. Ne može se očekivati od sirovine lošeg kvaliteta finalni proizvod visokog kvaliteta, čak i uz najbolje metode obrade. Neophodan korak u procesu dobijanja kvalitetnog proizvoda je upoznavanje sa prirodom sirovog materijala i sa njegovim mogućim nedostacima. Isto tako, je veoma bitno i temeljno poznavanje mogućih uticaja nedostataka loše sirovine na efikasnost procesa obrade. Glavica belog luka bi trebalo da bude ubrana u odgovarajućoj fazi zrelosti i ostavljena u redovima po polju kako bi se osušila i sačuvala. Posle oko nedelju dana ili kada se dobro osuše, glavice se okreću na gore i baštenskim makazama se odstranjuje lišće i korenje. Obolele i oštećene glavice se odvajaju. Čenovi se razdvajaju i sortiraju na osnovu kvaliteta. Uklanjaju se plesnivi čenovi, prljave spoljne opne, peteljke, lišće i korenje po Međunarodnom standardu za sušeni beli luk (Allium Sativum L.) ISO-5560:
• Opšti izgled: Sušeni beli luk bi trebalo da bude usaglašen sa zahtevima ovog Međunarodnog standarda i posle procesa rehidratacije bi trebalo da povrati osobine slične onima koje poseduje svež beli luk.
• Boja: Boja sušenog belog luka bi trebalo da odgovara sorti belog luka koja se uzgaja, tj. da bude između bele i oker boje. Proizvod bi trebalo da bude bez sprženih i ispečenih delova.
• Miris: Sušeni beli luk bi, posle rehidratacije metodom koji je propisan Međunarodnim standardom, trebalo da ima karakterističan, prodoran miris, bez uticaja drugih mirisa i bez mirisa koji dolaze od memljivih, užeglih, fermentiranih ili izgorelih delova.
• Aroma: Aroma sušenog belog luka se procenjuje posle rehidratacije u skladu sa metodom koja je propisana Međunarodnim standardom. Trebalo bi da bude kao aroma delimično skuvnog belog luka i bez uticaja drugih aroma koje potiču od memljivih, užeglih, fermentiranih ili izgorelih delova.
• Prisustvo insekata, memle i sl.: Sušeni beli luk bi trebalo da bude bez živih insekata i praktično bez plesni, mrtvih insekata, delova insekata i glodarske zagađenosti vidljive golim okom ili pod tim uvećanjem ako je to neophodno u nekom posebnom slučaju. U slučaju nedoumice, zagađenost belog luka koji se nalazi u obliku praha bi trebalo odrediti metodom propisanim u ISO-1208.
• Strane materije: Ukupan postotak svih stranih materija, tj. materija koje su isključivo biljnog porekla, kao što su delovi opni i korenja ne bi smeli da pređu 0,5% (m/m).
Tabela 6. Hemijski zahtevi za sušeni beli luk (Peter, 2001)
| | | |
| --- | --- | --- |
| osobina | zahtev | test metod |
| Sadržaj vlage, % (m/m), max | 8,0 | ISO 939 |
| Ukupan pepeo, % (m/m), suve materije, max | 5,5 | ISO 928 |
| Prah nerastvorljiv u kiselinama, % (m/m) suve materije, max | 0,5 | ISO 930 |
| Sadržaj isparljivih sumpornih jedinjenja, % (m/m) suve materije, min | 0,3 | ISO 5567 |
| Ekstrakt rastvorljiv u hladnoj vodi, % (m/m) suve materije, min. | 70,0 | ISO 941 |
| Ekstrakt rastvorljiv u hladnoj vodi, % (m/m) suve materije, max. | 90,0 | ISO 941 |
Sušeni beli luk može biti podeljen u dole navedene šire kategorije:
• Sušene kriške belog luka – proizvod koji se dobija sečenjem čenova belog luka u kriške i uklanjanjem komada manjih od 4 mm prosejavanjem.
• Sušene ljuspice belog luka ili komadi – proizvodi koji se dobijaju prolaskom kroz sito čiji su otvori veličine od 1,25 mm do 4 mm u zavisnosti od slučaja. Ovi komadići nemaju nikakav definisan oblik.
• Sušeni griz belog luka – proizvod koji se dobija prolaskom kroz sito čiji su otvori veličine 250 m do 1,25 mm.
• Beli luk u prahu – homogenizovani proizvod kod kojeg 95% prolazi kroz sito čiji su otvori veličine 250 m.
Sušena glavica belog luka bi trebalo da se uklapa u zahteve za hemijskim i fizičkim osobinama određenim u tabeli 6.
Garlico Industries, Mandsaur, Madhya Pradesh iz Indije je takođe dala specifikaciju praha belog luka na način na koji se to zahteva u SAD (tabela 7).
Tabela 7. Specifikacija belog luka (Peter, 2001)
| | |
| --- | --- |
| parametri | standard |
| Opis | Žućkasto-beli/žuti prah |
| Količina alicina | Ne manje od 12,5‰ |
| Alin | Ne manje od 28‰ |
| Gama Gluamilcisteini | Ne manje od 6‰ |
| Ukupni Tiosulfati | Ne manje od 13‰ |
| Ukupan sumpor | Ne manje od 6‰ |
| Vlažnost | 6% |
| Granulacija | +80 Mesh-max. 15% |
| Ukupan broj pločica | 100,000 Cfu/g maksimum |
| Sadržaj memle | 1000 Cfu/g maksimum |
| E. Coli | Nije Primećena |
| Salmonella | Nije Primećena |
Zahtevi za uzorkovanje su sledeći:
• Sušeni prah belog luka ili griz: Uzimanje uzorka proizvoda se obavlja u skladu sa ISO 948, korišćenjem kupastog uzorka ili nekog drugog odgovarajućeg implementa kako bi se dobio sterilan ili reprezentativan uzorak.
• Sušene kriške, ljuspice ili komadići belog luka: Određeni problemi se javljaju kao posledica krtosti proizvoda i opasnosti smeštaja u kontejner. Stoga je neophodno uzeti sav sadržaj jednog kontejnera zato što se, tokom transporta, beli luk raspoređuje tako da veći parčići budu na vrhu, manji na dnu kontejnera.
• Test metode: Uzorci sušenog belog luka bi trebalo da budu testirani da li se slažu sa zahtevima propisanim ovim Međunarodnim standardom služeći se metodama fizičke, senzitivne i hemijske analize koje su navedene u tabeli 6.
Prilikom pakovanju sušeni beli luk bi trebalo odlagati u čiste, čvrste i suve kontejnere, napravljene od materijala koji ne utiču na proizvod, već ga štite od svetlosti i ulaska vlage. Pakovanje bi takođe trebalo da bude u skladu sa državnim propisima koji se odnose na zaštitu životne sredine. Sledeće pojedinosti bi trebalo da se nalaze na svakom paketu direktno ili bi trebalo da su označene na etiketi zakačenoj za paket:
• ime proizvoda, botaničko ime i komercijalno ime (brend), ako postoji;
• ime i adresa proizvođača ili onog ko pakuje ili fabrički žig, ako postoji;
• kod ili serijski broj;
• neto težina;
• zemlja proizvođač;
• ostale informacije koje traži naručilac, kao što su godina proizvodnje i datum pakovanja, ako je poznat;
• ukazivanje na gore pomenuti Međunarodni standard, i
• da li proizvod sadrži aditive, i ako da, koje, u slučaju zemalja u kojima su oni dopušteni.
Metode rehidratacije i senzorne procene sušenog belog luka su:
• Kriške belog luka. Posuda, od oko 500 ml zapremine napravljena od materijala koji neće uticati na pojavu drugačijeg ukusa ili uticati na boju preparata, činija od porcelana ili bele pečene gline i nerđajuća čelična kašika čine aparuturu koja se koristi pri rehidrataciji. Koristi se prirodna, pijaća voda, po sastavu što neutralnija moguća. Izmeri se uzorak od 10 g ± 0,1 g i stavi u posudu koja sadrži 500 ml hladne vode, a zatim sipa u činiju. Odmah zatim se sprovodi procena čulima o izgledu te vode (boja i bistrina), boji preparata, mirisu, osetljivosti i aromi.
• Beli luk u prahu, grizu, ljuspicma ili komadićima. Posuda od oko 1000 ml zapremine napravljena od materijala koji neće uticati na pojavu drugačijeg ukusa ili uticati na boju preparata, činija od porcelana ili bele pečene gline i nerđajuća čelična kašika čine aparuturu koja se koristi pri rehidrataciji. Kao reagensi se koriste brašno napravljeno od najskorije žetve pšenice i za koje se zna da je dobrog kvaliteta, zajedno sa prirodnom, pijaćom vodom, po sastavu što neutralnije mogućom. 1000 ml hladne vode se sipa u posudu i dodaje se 30 g brašna, uz konstantno mešanje. Ova mešavina se zatim zagreva i konstantno meša sve dok ne dostigne tačku ključanja, a zatim se krčka još oko 2 min. Merenje težine se vrši do preciznosti od 0,001 g, 0,4 g belog luka se zatim stavlja u činiju. Zatim se dodaje 250 ml pripremljene tekućine i ostavlja se da odstoji oko 5 minuta. S vremena na vreme se promeša. Potom se vrši čulna procena mirisa i arome.
Tabela 8. Mikrobiološke karakteristike sušenog belog luka (Peter, 2001)
| | | |
| --- | --- | --- |
| karakteristike | preporučena specifikacija | test metod |
| Mikroorganizmi na 30ºC, po gramu, max. | 105-106 | ISO 4833 |
| Pretpostavljena Escherichia coli, po gramu, max. | 10-102 | ISO 7251 |
| Kvasac i memla na 25ºC, po gramu, max. | 103-104 | ISO 7954 |
| Clostridium perfringens, po gramu, max. | 10-102 | ISO 7937 |
| Staphylococcus aureus, u 1 g | bez prisustva | ISO 6888 |
| Salmonella, u 25 g | bez prisustva | ISO 6579 |
Ispitivanja obavljena u laboratorijama od strane proizvođača i korisnika ovog proizvoda su pokazala da se mikrobiološke karakteristike, poput onih navedenih u tabeli 8. mogu smatrati prihvatljivim. One su čisto informativnog karaktera.
Pakovanja sušenog belog luka bi trebalo da budu smeštena u pokrivenim skladištima, dobro zaštićena od Sunca, kiše i prekomerne toplote. Skladište bi trebalo da bude suvo, bez neprijatnih mirisa i zaštićeno od napada insekata i drugih štetočina. Tokom transporta, kontejneri bi trebalo da budu jasno obeleženi znakovima upozorenja protiv nepažljivog rukovanja, koje bi moglo dovesti do oštećenja kontejnera. Oni bi trebalo da su suvi i hladni i smešteni daleko od brodskih kotlova i dna broda.
.
Ekstrakcija ulja
Isparljiva ulja čine 0,1 do 0,25 posto mase svežeg belog luka. Ulje belog luka se dobija destilacijom vodenom parom svežih čenova. To je braon crvenkasta tečnost veoma jake arome. U smislu arome, jedan gram ulja jednak je količini od 900 g svežeg belog luka ili 200 g sušenog praha belog luka. Velika pikantnost ulja belog luka otežava njegovu direktnu upotrebu. Ovo ulje se obično razblažuje drugim uljima od povrća.
Odavno je poznato da se iz belog luka destilacijom pomoću vodene pare može dobiti etarsko ulje karakterističnog i svojstvenog ljutog mirisa na beli luk. Od 1844. god. počinje proučavanje hemijskog sastava tog ljutog ulja. Godine 1892. i kasnije ustanovljeno je konačno da se etarsko ulje, dobijeno vodenom destilacijom posle vrenja smrvljenih glavica, sastoji od raznih alifatskih nezasićenih sumpornih jedinjenja-tiosulfinata koji su veoma nestabilni i preleze u disulfide i trisulfide. Tiosulfinati su jedinjenja koja su najvećim delom odgovorna za aromu i ukus. Tek 1944. god. iz belog luka je pomoću vode i alkohola, a zatim destilacijom pomoću vodene pare pod smanjenim pritiskom, izdvojena jedna uljasta, bezbojna, nepostojana supstanca koju su nazvali alicin.
Već 1947. god. utvrđena je hemijska građa, formula alicina. Dokazano je takođe da alicin nije prvobitna supstanca belog luka, već da je jedan od međuproizvoda fermentativnog raspadanja nekog većeg jedinjenja, odnosno da je oksidacioni proizvod dialildisulfida, koji je glavni sastojak ulja belog luka, neprijatnog mirisa i niske tačke ključanja.
Podaci o količini sastojka koji se naziva etarsko ulje belog luka veoma variraju. Nemačka farmakopeja navodi minimalni sadržaj od 0,2%. Dobija se destilacijom vodenom parom, ali i kombinacijom destilacije i ekstrakcije, da bi se dobilo 0,41 do 0,58% bezvodnog ulja. U svakom slučaju ulje je veoma heterogena smeša, u kojoj je, pomoću savremenih metoda analize, dokazano oko 25 ugljenikovih jedinjenja koja sadrže i sumpor.
Alicin i ajoen, koji važe uglavnom kao najdelotvorniji sastojci belog luka, nalaze se u najboljem slučaju samo u tragovima.
.
Ostali proizvodi
Beli luk se takođe proizvodi u formi soka belog luka i soli belog luka. Sok belog luka je tamna viskozna tečnost, koja je 12 puta jača od sušenog belog luka ili 50 puta jača od svežih čenova belog luka. So belog luka se sastoji od jedinstvene suve mešavine nejodirane soli, čiji je približni sastav prikazan u tabeli 9.
Tabela 9. Približan sastav soli belog luka (Peter, 2001)
| | |
| --- | --- |
| sadržaj | so belog luka |
| Voda | 1,4 g |
| Proteini | 3,2 g |
| Masti | 0,1 g |
| Ugljeni hidrati | 13,8 g |
| Vlakna | 0,4 g |
| Pepeo | 81,5 g |
| Ca | 220 mg |
| Fe | 1 mg |
| Mg | 11 mg |
| P | 79 mg |
| K | 212 mg |
| Na | 31,4 g |
| Zn | 1 mg |
| Vitamini | – |
So belog luka ne bi trebalo da sadrži više od 2,5% vlažnosti, više od 81% soli, a trebalo bi da sadrži potpuno suvi prah belog luka 18-19%, kao i 1-2% kalcijum stearata. So belog luka ima daleko veći kulinarski potencijal od praha belog luka, a jedna supena kašika soli je po snazi jednaka čenu belog luka (Peter, 2001).